| | |
| --- | --- |
| | Veteran LA Rocker Steve Dougherty, (along with Freddy Moore) co-wrote the song "Memories", "That's mostly Steve's song, I just added a bridge section." - FGMoore. |


Dougherty, originally from the midwest, was lead guitarist in Roach and the White Boys , alongside Dennis Peters on bass. Steve was lead guitar extraordinaire for the short lived BFM, then went on to found bands such as 'Burning Roam' and 'Eyes'.

Dougherty was one of the founding members of the band: Burning Rome .
---
Straight ahead rock and roll from Los Angeles. Other White Boys configuartions included: Pete McRae ( The Kats ), Kevin O'Neal (The Busboys) , and Byl Carruthers ( Cafe R&B ). Original material was provided by Brian O'Neal , Pete McRae , Freddy Moore , and others...
---
Burning Rome
(A&M Records, 1982)
Recorded at Village Recorders/SoundCastle, Los Angeles,Ca.
| Personnel | Instrument |
| --- | --- |
| Vickie Thomas | Vocals, Guitar |
| Steve Dougherty | Lead Guitar |
| Ron Murray | Bass |
| Micky Shine | Drums |
---
---
---
WINDOWS OF THE SOUL by Eyes
(Zero Corporation Records, 1993)
| Personnel | Instrument |
| --- | --- |
| Jeff Scott Soto | Vocals |
| Steve Dougherty | Lead Guitar |
| Aldy Damian | Drums |
Second release from AOR rockers "EYES" comes to us in the form of, 'WINDOWS OF THE SOUL'. A collection of songs that are mixed with rock and a little soul. "
The band does a rockin version of the GARY WRIGHT song, "Love Is Alive", where guitarist Steve Dougherty displays some niffty guitar licks.

Guitarist Steve Dougherty was involved in different musical projects in Southern California.
Dougherty in 1986 contributed to the recording of a pop album by Berlin "Count Three & Pray" and in the recording of a 1989 demo with L.A. Rocks.
In 1988 L.A. Rocks evolved into EYES.
Dougherty contacted vocalist Jeff Scott Soto - one of the singers in the L.A. Rocks project- who then joined EYES.
With the arrival of Jeff Scott Soto, Eyes signed a recording contract with Curb Records, even though EYES had already had made a demo "Windows of The Soul" for the Capitol Records.
Finally, Dougherty , Grove, Damien and Jimmy O┤Shea recorded the debut album. All but 2 songs featured swedish vocalist Marcel Jacob.
Over the years they toured with bands like: Megadeth, Judas Priest, Ozzy Osbourne, Panther, Stake out in Chains, Exodus and Red Hot Chili Peppers.
In spite of the impact caused in the band by the loss of Jeff Scott Soto, Steve Dougherty and Aldy Damien attempted to carry on, but EYES disintegrated in 1993.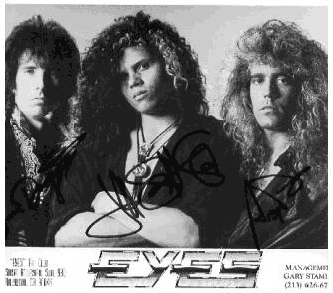 ---

NOTE: This bio is a work-in-progress.