Multi-instrumentalist, Vocalist and Songwriter, Dann Wick , of Sacramento, California, Frederick Moore's closest cousin.

Moore and Wick poured through rock fanzines, absorbed and dissected every Beatle album that came out, and listened exclusively to the Fab Four and the Kinks. By October 1964 they had unequivocally decided that th vocation was playing music and they started writing.

MOORE: "We always heard that the Beatles wrote their own songs, so we figured that to be a rock stars you had to write your own songs." "In the summer of 1964, right after 'A Hard Days Night' came out, my cousin Danny and I spent two weeks making wooden replicas of the Paul McCartney bass, the John Lennon rhythm guitar, George Harrison's lead guitar, and Ringo's drums. We used to lip-synch to records. Danny and I wanted to play real music. We learned 'You Really Got Me' by the Kinks, the Beatles' 'And I Love Her' and my first original composition 'Baby Be Mine'."


WICK: "One of the firsts song that Rick and I wrote together (really it was Rick who wrote it) was "A Spaniard In The Works" from the title of John Lennon's second book of poetry. It was written by "Wick & Moore" (why I am first is a mystery) to be like "Lennon & McCartney", but that was the first and only song we wrote together as the Moore family moved back to Minnesota from Marin County California a few months later."


In the late 60's & early 70's while Moore was in Minnesota, all Wick wanted to do is play acoustic guitar like Steve Stills, but soon "I got hooked by the 5-string banjo and 'Bluegrass' music." Wick played in two short lived bands "Buffalo Creek" and "The New Hackberry Ramblers". From 1977 through 1981 Wick played in a folk-rock band called "Shelter" and from 1981 through 1983 an eclectic (musically) Christian band called "Panacea" only to later phase out of bands and only teach music.


WICK: "All said and done, my cousin Rick was my biggest influence in music! He opened me up to almost every genre of music, telling me that everything in music has something to offer and to learn from it."





---

They called themselves "The Royal Cumquats", with a "C". "That was the first band for both of us. We even had matching bracelets engraved with The Royal Cumquats". Next we had Grandma Wick sew us polka-dot shirts (white with black dots) like John Lennon had in one of the Robert Freeman photos.

(Note: this bio is a work in progress)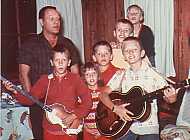 Dan Wick and Frederick Moore.
(with Uncle Neil, cousins Linnea, Mike, and brothers Bobbyzio and Douglas).
| | |
| --- | --- |
| Buffalo Creek. 1974 | 'Buffalo' Wick, Shelter, California State Fair 1977 |
| | |
| --- | --- |
| On stage California State Fair 1980 | 'Shelter Photo' State Fair 29th of October 1978 |
| | |
| --- | --- |
| On stage California State Fair 1980 | High Sierra 1972 (photo by Mike Kinzel) |
| | |
| --- | --- |
| Shelter, Portola, CA 1980 | Shelter on stage. California State fair 1980. |
| | |
| --- | --- |
| Moore, Wick, Brenner. Welsh, MN 1974 | The Royal Cumquats (Moore, Wick) Novato, CA. 1965 |
| | |
| --- | --- |
| Summer 2005 | Summer 2006 |
mailto: lwick@comcast.net


Legend Hear Mp3
I Know Hear Mp3
Going Home Hear Mp3
Score Hear Mp3