See Parasite page on Wikipedia

Stars: Demi Moore, Freddy Moore, Cherie Currie, Joanelle Romero, Robert Glaudini, Gale Robbins, Luca Bercovici, James Davidson, Al Fann, Cheryl Smith, Vivian Blaine, , Tom Villard, Director: Charles Band.

Includes one song by Frederick G. Moore ( Show A Little Emotion ) performed by Boy.

Freddy Moore as 'Arn'. "I played the intellectual nerd of the post-apocalyptic teenage gang!""

A small town is beset by giant parasites. An 'Alien' ripoff originally filmed in 3-D, during that technique's breif return in the early '80s. Bad films like this killed it both the first and second times. An unpardonable mess that comes off as a stinky sixth-grade film project." - VideoGuide.
"In this gory sci-fi outing, shot and originally released in 3-D, Dr. Paul Dean (Robert Glaudini) is a scientist living in the near future, after America has fallen under the control of a repressive paramilitary regime. Dean's research causes him to absorb an especially voracious parasitic worm, which feeds inside the human stomach until it becomes strong enough to burst out in search of a new host. In time, Dean is able to extract the creature from his body, but soon it escapes from captivity, and Dean and his friend Patricia (Demi Moore) must find a way to stop it as they find themselves on the run from brutal government agent Merchant (James Davidson) and a gang of thugs led by Ricus (Luca Bercovici). Parasite was Demi Moore's second film, shot while she was still a regular on the daytime serial General Hospital." -allmovie guide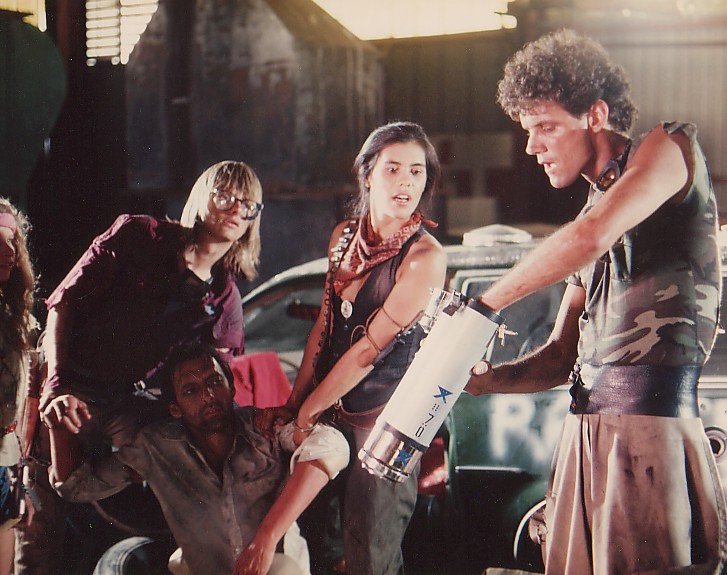 Natalie May, Freddy Moore (glasses), Robert Glaudini, Joanelle Romero, Tom Villard.

Cherie Currie of The Runaways. Tom Villard , Demi Moore , Luca Bercovici, Joanelle Romero , Freddy Moore of Boy (far right).