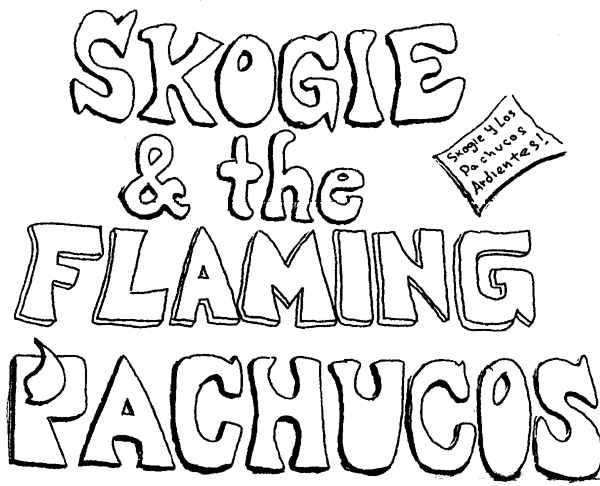 A. The members of SKOGIE AND THE FLAMING PACHUCOS and their talents:
1.
Rick "SKOGIE" Moore, age 20
head composer, conductor,
lead guitar, lead vocal,
piano and percussion.
2.
Dick Rogers, age 16
electric bassoon, flute,
alto and tenor sax, piano,
clarinet, recorder, organ,
vocal and percussion.
B. A brief history of SKOGIE AND THE FLAMING PACHUCOS :

In the spring of 1970, Rick Moore (then of an original rock group called AN ENGLISH SKY) formed a group with Mark Goldstein, Dick Rogers and Hans Gasterland (then of the heavy acid-rock group called EUPHORIA) and decided on the name SKOGIE AND THE FLAMING PACHUCOS, with intentions of building a repertoire of original songs to record and perform.

During the following summer they ran through a number of problems and additional members: Randy Swanson . Mark Winger, Westy Loegering , Marc Partridge, Bob Guberud and Mike Milner, (including at one time, a HORN SECTION). having run through their list of available musicians, they advertised in October, 1970 for a BASS PLAYER and were instantly rewarded by accepting the very first applicant, Gregg "YO" Kubera.

Says SKOGIE, "'Yo' fit perfectly into our puzzle and made the picture complete. We've improved many times over since he joined." They have all become bosom buddies.

This brings us to the present...

SKOGIE AND THE FLAMING PACHUCOS are currently the house band at the Coffeehouse EXTEMPORÉ in February and March (1971). The EXTEMPORÉ is located at 325 Cedar Avenue. (The corner of Cedar and Riverside Avenue on the WEST BANK)

C. A preview of their current repertoire:
All songs composed by Rick Moore (except where noted) and arranged by Skogie and the Flaming Pachucos.

NOTE: This is not the order in which the songs will be performed. They are generally linked in a signaled but unplanned order. (Watch for Skogie' singals)

5 songs featuring Skogie an piano:
7 songs by Skogie and the Acousto Pachucos:
8 more songs:
25.
THE BEDTIME FANTASIES OF A GAY RABBI
numerous improvised sections (tonal and atonal) sometimes vocal, usually conducted by Skogie with several suggestive hand signals.
26.
SEVEN CORNERS
by Mark Goldstein
features Bobby Moore on sax.
27.
MELLOW PHEARTZ
by Moore and Goldstein
flute, sax and clarinet.
28.
BLUE SUEDE SHOES
by Carl Perkins
vocal, a classic.
29.
HEARTBREAK HOTEL
by Axton-Druden-Presley
features SKOGIE as ELVIS.
30.
KING KONG
by Frank Zappa
very vocal, with recitation (watch signals)
31.
THE ORANGE COUNTY LUMBER TRUCK
by Frank Zappa
Dick on organ.
32.
CALL ANY VEGETABLE
by Frank Zappa
very vocal, with recitation.

Los Pachucos wish to express their gratitude and appreciation for their equipment managers:
Bobby "UTILITY" Moore and Steve "THE BUN" Brenner. They hope you enjoy the music and commentary.

"RIDE IN PEACE BROTHERS, RIDE IN PEACE"