THE (v2) - Home Page
June 1968-August 1968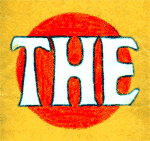 ---
Moore from Richfield.
Larsen from the south-side of Minneapolis.
"Craig was a bad-ass guitarist from the mean streets - last time I saw him he was being shipped out to Vietnam while I was enrolling as a Music Theory major at the U of M ! Craig did help me learn how to jam and moved my guitar playing from a George Harrison thing to an Eric Clapton of Cream thing. Unfortunately, we only wrote a few songs: Appleskin Thomas, Maynard, Garsiver's Dream ." -Moore.