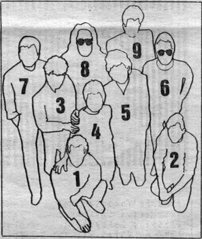 Pictured on cover are: 1. Charles Ottavio,
Plane English; 2. Bobbyzio Moore, The Kats;
3. Astrid Plane, Plane English; 4. Esther Wong;
5. Robert Louis DiChiro Sumner, the Sumner
band; 6. Randy Foote, The Dig; 7. Freddy
Moore, The Kats; 8. Doug Fieger, The Knack;
9. David Swanson, The Pop.
---
28 Rock 'n' roll bash
Local bands help celebrate the 10th anniversary of Madame Wong's West. By Craig Rosen
---