L to R: Lee Wuflestad (guitar, vocals), Gonsagas Adam G (bass, guitar, vocals), Gabe Brennan (drums)
NEW: Skogie Studios, Brainard, Minnesota, USA

Adam Galles was born in Minneapolis, Minnesota in 1981- the youngest of three sons.
In 1983, the family moved to Nisswa, Minnesota and bought a resort, which they still own and operate.

When not pursuing his muse, Galles works part time at the resort and part time restoring boats and doing general marine repair.

His life long hobby and passion has been music. "I was maybe 5 or 6, I would spend time in my brothers' bedrooms with them, listening to Van Halen, Motley Crue, Def Leppard, The Cars, Kiss, etc. Most of my classmates had never shown any interest in music until about age 10. They often looked at me as very different from them."

Galles was originally inspired to start playing bass and making music by Black Sabbath. "I used to be the biggest Sabbath freak. Black Sabbath was all I would ever listen to, ever. I liked every lineup that band had- the "Ozzy" years, and the "post Ozzy" years. Tony Iommi was THE MAN, to me! I used to study his every move on stage (everything down to a finger twitch), his finger picking and every little detail on his style of playing. I would imitate all his licks and moves with my bass. Ozzy was another favorite. I originally taught myself to sing by listening to his albums and singing along with them. Of course nowadays I don't sing anything like he does."
During senior year in high school, Galles achieved his life long dream of becoming a real musician when he sold his ATV to buy a Lotus 4 string bass and a little 30 watt Hartke Amp.
His drummer, Gabe Brennan, taught him how to play G, C, and D. "I pretty much took it from there, teaching myself all the rest." The next week Galles joined Brennan and fellow classmate Dwayne Bergsnev in a group that to played two mornings per week in the their private school music room. The school administrators (except the principal) were very much against the band from the start. After about a month of playing bass at the school, 8 or 10 additional musicians joined the morning session. "I don't think any of us could hear each other over the other players so we all kept turning up." The administrators were upset and outsiders were no longer allowed to join in.
At about this time, Brennan and Bergsnev dressed Galles up in what is best described as a white knee length wedding dress, and a bonnet to go with it, and the three of them played the Spanish song "La Cabeza" in front of the entire school.
Everyone loved it. Galles got some good laughs from that, but the administration banned Galles from playing in the school.

Brennan and Bergsnev assumed they were without bass player for the rest of the year. A few months before school was out, Galles asked principal Miller for permission to return to the music room sessions and the Miller was nice enough to give him the OK. Miller got into trouble for that. Never-the-less the last couple months were back to normal. There were no more cross-dressing incidents (thankfully).

After graduation Galles went in his own direction and wrote up some songs for a proposed heavy metal album. No suitable musicians could be found so the idea was scrapped. "I still have the lyrics but don't plan on doing anything with them."

At this time, Brennan and some friends started a band called All Weather Human which gathered a huge following.
Brennan and Galles kept in contact on a regular basis but didn't play any music together.
Galles gave up bass playing for about a year.

In the fall of 2001, Galles got back together with Brennan and Bergsnev to play for a local college-age youth group. The three of them have been playing on and off, ever since.

In 2004, Galles met and started working with Lee Wuflestad , the current guitar player and singer for their group. The three played live here and there in the area during the summer months.



L to R: Brennan, Galles, Wuflestad

Brennan is currently going to college in Chicago during the winter and Wuflestad is, unfortunately, in the process of moving- out of the area.
"I've always appreciated and enjoyed having Lee Wuflestad around. He's well organized and doesn't mess around, when it comes to music. We'll play any one song and he plays it exactly the same, every time. He's a very solid musician."

By the fall of 2005, Galles began making plans to begin recording an album in the spring of 2006. Galles plans on an album consisting of 50% cover songs, 50% original music. They began recording in March. There has been a delay in the recording due to Josh Hemsworth's (the studio operator) involvement in a motorcycle accident. Hemsworth is currently the main/only candidate to take Wuflestad's place in the group. He will be playing on most of the current album "Eight Track." Galles hopes to have this album completed by the fall of 2006.

"My hopes and intentions are to seek national exposure with this album, selling it in as many places as possible. It's not a 'money maker' and I'm not looking to 'go big,' but I hope to get our music out there, everywhere."



L to R: Guest Vocalist Heidi Youngren and Galles at sessions for the forthcoming album.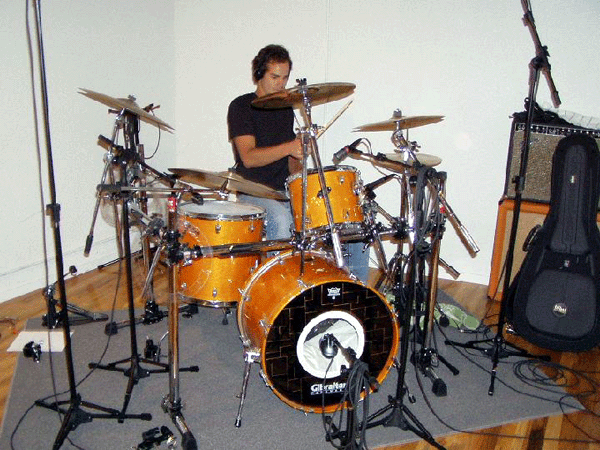 Gabe Brennen recording "It's Not A Rumour" for the forthcoming album.


Guitarist/Studio Operator Josh Hemsworth at the board.