BIO and 1960s POSTER ART BY JIM TISETH.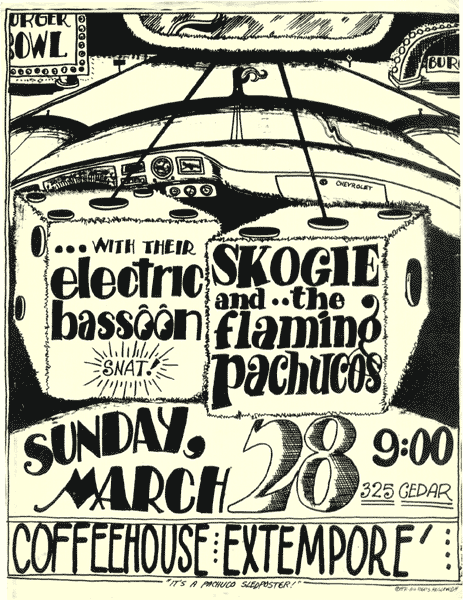 Yes, Dick Rogers really had an electric bassoon, I even composed an istrumental named "With Their Electric bassoon" for him to play." -Freddy Moore.
---
Jim Tiseth was from Windom. Minnesota. Once in Minneapolis, he gravitated to Dinkyland. Tiseth, a gifted rock & roll pianist and graphic artist. Jim was a cross between Dickens' Fagen and Artful Dodger. At one time Tiseth managed Skogie and the Flaming Pachucos.
"Jim introduced me to several hidden aspects of bohemian life in Minneapolis. He also booked us gigs in several 'invisible' gay and lesbian clubs. He made these great posters for our gigs and was always fun to jam with. Last I heard he was in an oldies band, I contacted him and asked him to play piano on one of our Kat Club CDs, but never heard back from him. -Freddy Moore.